Anne Hegerty: The Chase star speaks out after ITV contestant's 'waistline' jibe at her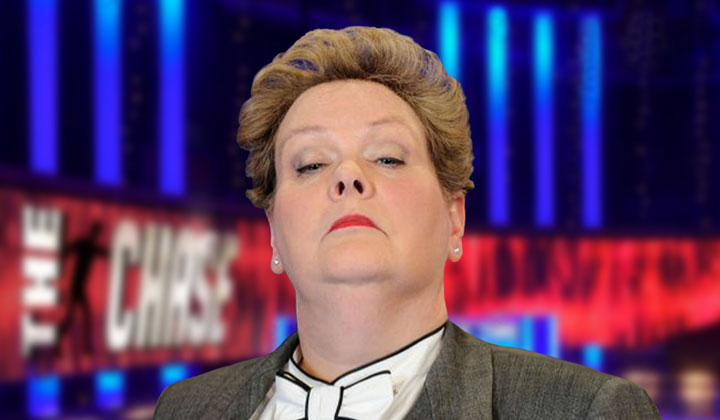 Anne Hegerty: The Chase star speaks out after ITV contestant's 'waistline' jibe at her
ANNE HEGERTY – best known as The Governess on ITV's The Chase – has addressed a cheeky comment made by a "cowardly" contestant on the popular quiz show.
Anne Hegerty defended The Chase host Bradley Walsh as she spoke out about a "waistline" jibe made about her by an ITV contestant last week. The Chaser broke her silence after it was suggested that the presenter regular pokes fun at her weight. The 60-year-old's size was commented on after she beat a player called Niall in the first round, sending him home. Viewers took to Twitter to remark after he responded to claims he was "too thick" to win against her.
"If you're that offended by Niall's tame joke (which was a reply to Anne's jibe) then you'll be tearing your hair out in every episode."
Anne then interjected: "He doesn't, actually, it's more Mark [Labbett] who gets the size jokes. But I think we should all be laid back about this sort of thing."
They then responded: "I totally agree with you. And by the way, congratulations on Britain's Brightest Family. I've been turning up at work late because of it."
It all came about after Anne told the member of the public after their head-to-head: "You keep trying very hard and you nearly got there, but you're just a little bit too thick."
After gasps from Bradley and the audience, the former stated: "That's unnecessary. Niall, what do you say to that?"
The player then quipped: "Your waistlines a little bit too thick."
Anne later responded to someone else's comments about what happened, with the post reading: "We are talking about Anne Hegerty, and she has a great sense of humour in that respect.
"Did you not see her reaction? And it was a fair and funny bite back to her calling him thick."
Anne then continued unapologetically: "And he WAS thick (probably still is)."
Meanwhile, it comes after Anne Hegerty spilled all on her "filthy little secret" in a frank new interview.
The quiz champion has been on the show since 2010, joining the line-up a year after it first aired on ITV.
Revealing how she had lived in poverty beforehand, she spoke about her love of fame.
Having started her journey when she appeared on Mastermind in 1987, Anne admitted: "… I've always wanted to be famous and I don't get nervous being on TV."
The Chase airs weekdays at 5pm on ITV.